HISTORY MAKER: CAITLIN GOOCH
Alumna uses horses to encourage kids to read
The following story was originally published by ECU News Services in 2021.
On a typical Saturday, Caitlin Gooch drives a trailer with her grey Arabian horse, Goat, to different communities, libraries or churches in North Carolina and hands out free books. Kids gather and excitedly pet, brush and give Goat treats. They can also pick out a book to read to her.
It's all part of Saddle Up and Read, Gooch's nonprofit organization that uses horses to encourage kids to read.
"My goal is to be part of closing the literacy gap," Gooch said. "If children fall in love with reading, they'll be adult thinkers."
Gooch grew up in Wendell surrounded by family and horses on her father's farm. She studied applied sociology with a concentration in marriage and family therapy at ECU, graduating in 2015. While a student, Gooch spent her time working, volunteering at the Boys and Girls Club and Salvation Army, and driving  an hour home on weekends to take care of her horses and go on trail rides.
After graduation, Gooch continued to volunteer with kids — most of them Black or minority — and noticed many of them had never seen a horse, except maybe on TV.
"Being Black and into horses, I wanted to be at the front of that representation," Gooch said.
She partnered with the Wendell Community Public Library to create a reading challenge with an opportunity to expose kids to horses. She hoped to target minority and low-income students who needed extra encouragement to read. In 2019, Black students had an average reading score that was 25 points lower than white students on the National Assessment of Educational Progress test, according to the Department of Education. And students who were eligible for the National School Lunch Program in 2019 had an average score that was 26 points lower than that for students who were not eligible.
For the library challenge, the kids who read three or more books had a chance to visit Gooch's farm and interact with the horses. As Saddle Up and Read took off, the challenge expanded into regular group visits to the farm, where kids could pick a book to read to the horses, in addition to petting and sometimes riding them. Because of the pandemic, Gooch has not been able to bring kids to the barn for group readings. However, thanks to a donation of a trailer, she is now able to take the horses and books to them. Many of the books are about horses and Black cowboys and cowgirls.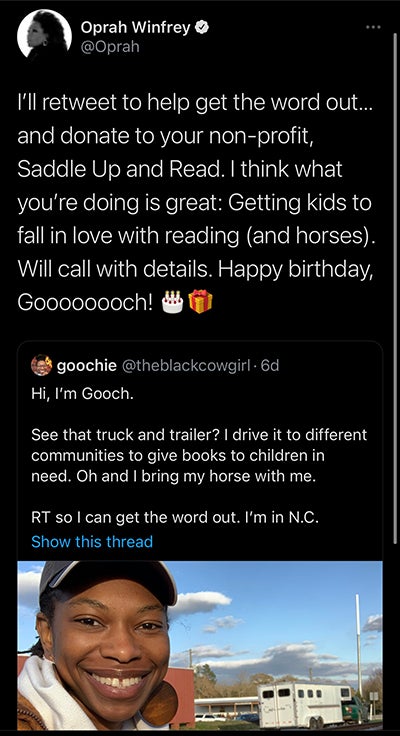 "It's been amazing to see those kids and give books away," Gooch said.
Another amazing thing? Getting mentioned in a tweet by Oprah.
On Dec. 5, Gooch tweeted about her work connecting communities to horses and books, to which Oprah – yes, the Oprah – replied, "I think what you're doing is great." She retweeted Gooch and also made a donation to Saddle Up and Read.
"I almost fainted when I saw it!" Gooch said.
Gooch has big plans for Saddle Up and Read's future. She's been running the organization by herself for three years but is starting a board to help with the increasing demands.
Her ultimate goal is to buy land in North Carolina for a barn with an equestrian library dedicated to Saddle Up and Read programming. In the meantime, she encourages people to donate. Books are 70% of Saddle Up and Read's expenses, Gooch said. "I read a study that said a home library needs to contain at least 80 books to boost literacy," she added. "My next goal is to provide 100 families with 80 books."
Learn more on the Saddle Up and Read website.
MORE HISTORY MAKERS