UPCOMING PRODUCTION
ECU's first all-minority cast will perform "Once on This Island" through Sunday in McGinnis Theatre
In a celebration of diversity and cultural richness, East Carolina University is set to enchant audiences with its production of the musical "Once on this Island" through Sunday in McGinnis Theatre.
"Once on This Island" is a Tony Award-winning musical that tells the captivating story of Ti Moune, a fearless peasant girl who embarks on a journey of love and sacrifice in a lush Caribbean island setting. Based on a book by Rosa Guy, the story delves into the colorism ingrained in the caste system in Haiti.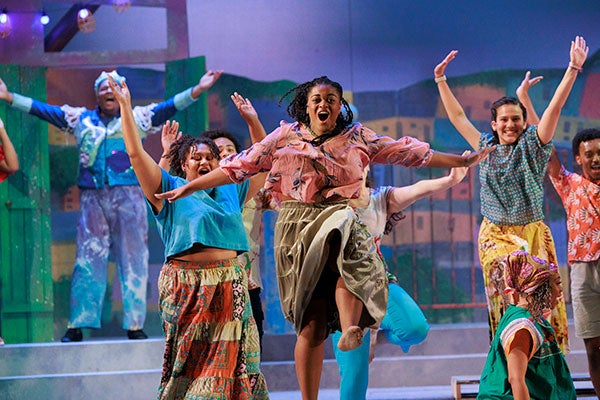 With its first-ever cast made up entirely of people of color, this production represents a significant milestone for the School of Theatre and Dance and aims to showcase the rich talent among the university's diverse student body while also offering a new viewpoint on stage.
Director Lisanne Shaffer-Dickerson expressed enthusiasm about the inclusive casting choice. She believes that this production will not only showcase the immense talent within the university's diverse student body, but will also create a powerful and resonant experience for the audience.
"We really want to continue to tell diverse stories in our Playhouse so that our students feel represented, but also the members of our community get to see themselves on stage," she said. "'Once on This Island' was such an opportunity to highlight our students who are of the global majority and not just highlight them, but tell a story that was written for them."
A 2003 alumna of the ECU School of Theatre and Dance, Shaffer-Dickerson moved to New York City after graduating with her Bachelor of Fine Arts in musical theater. She has returned to Greenville for her second year of teaching at ECU as an assistant professor of theatre education and theatre for young audiences.
"Being an alumna from this program, it is really joyful to be back where it all began," Shaffer-Dickerson said.
The production team has worked diligently to ensure that the staging and overall presentation authentically represent the Caribbean setting of the musical, even incorporating some unique theatrics to the production to enhance the show.
"One of the exciting things we're exploring is how to use water on stage as well as implementing the use of trap doors in the production, so you will see that a few times," Shaffer-Dickerson said.
There has been significant attention to detail in the costuming of the show with garments that not only capture the essence of characters, but also stay true to the cultural authenticity of Haiti.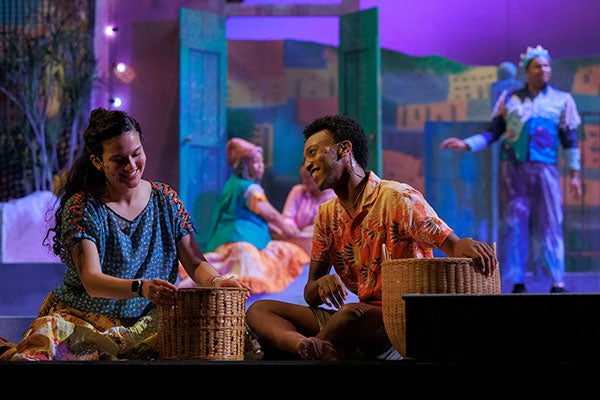 "In this show, there are four gods who are modeled after the gods in Haitian culture," Shaffer-Dickerson said. "The costuming for those particular performers is larger than life."
In contrast to other dialogue-heavy shows, "Once on This Island" has extensive choreography that will immerse audiences in an experience that pays homage to the cultural roots of the story.
"I have to shout out my amazing choreographer. Tomi Galaska is absolutely incredible," she said. "But it is a lot of choreography, so for students who have homework and other classes, retaining all of that choreography has definitely been a challenge."
"Once on This Island" not only captivates with its compelling narrative, but also immerses audiences in the rich, evocative music.
"Our music director, Dan Rutzen, has just done a wonderful job of getting that sound out of these students that absolutely makes the theater ring," Shaffer-Dickerson said. "Our cast has really taken these characters on beautifully and are performing at a much higher level than college level."
The production, a vibrant and enchanting tale of love, sacrifice and resilience, promises to captivate audiences with its stellar performances, innovative set design and vibrant choreography.
"There's not a boring moment in this show. You'll laugh, you'll cry and you'll leave the theater feeling an overall sense of warmth." she said.
"Once on This Island" will be performed in McGinnis Theatre Wednesday through Sunday. To see show times and purchase tickets, visit the School of Theatre and Dance website.
MORE STORIES