ECU receives 12th consecutive HEED award
East Carolina University's focus on being a supportive and welcoming place for all learners has been recognized for the 12th consecutive year with the national Higher Education Excellence in Diversity (HEED) Award.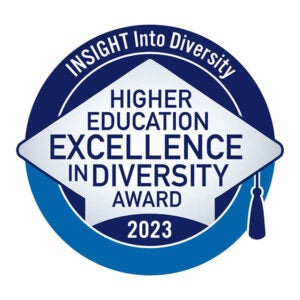 The HEED Award recognizes colleges and universities that demonstrate an outstanding commitment to diversity and inclusion.
ECU was one of just 109 institutions across the United States to receive the HEED Award for 2023. In addition, ECU received a Diversity Champion Award for the second consecutive year for placing among the top award winners.
The awards are sponsored by Insight into Diversity magazine, the largest diversity-focused publication in higher education. ECU will be featured with the award winners in the magazine's November/December issue.
"Our standards are high, and we look for institutions where diversity and inclusion are woven into the work being done every day across their campus," said publisher Lenore Pearlstein. "The HEED award process consists of a comprehensive and rigorous application that includes questions relating to the recruitment and retention of students and employees — and best practices for both — leadership support for diversity, campus culture and climate, supplier diversity, and many other aspects of campus diversity and inclusion."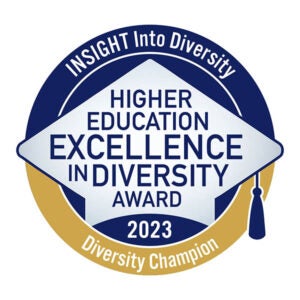 ECU promotes a diverse, respectful and inclusive environment through a variety of educational programs, training and seminars for students, faculty and staff, including:
The Black Student Success Summit, a gathering of Black learners, faculty, staff and allies to foster relationships, share success strategies and challenges for Black students at ECU.
The ECU Emerging Scholars Symposium, a four-day program for scholars nearing the end of their terminal degree, including postdoctoral scholars and recent graduates. The program is designed to support ECU's faculty pipeline with an emphasis on scholars whose research interests align with the university's mission and strategic plan, Future focused. Innovation driven. The plan supports cultivating a culture of care, belonging and opportunity for all faculty, staff and students.
In the last two years, the four-year graduation gap between Pell grant recipients and non-Pell recipients has decreased by almost 2 percentage points, from 11.7% to 9.9%.
Also in the last two years, the number of Hispanic undergraduate degree recipients increased by 2 percentage points, from 7% to 9%.
From fall 2021 to fall 2022, the number of minority faculty increased by 2 percentage points, from 22% to 24%.
MORE BLOGS