Thomas Remington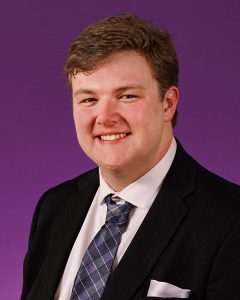 East Carolina University originally was not an option for Pitt County Schools Early College High School graduate Thomas Remington.
Moving to Greenville at the age of 9, Remington considered ECU 'the home school' and had his sights set on universities further from home. However, when he was introduced to the Honors College at ECU and the Brinkley-Lane Scholars program, Remington started to see a university full of opportunities that would set him up for his future.
"I have a path that I feel as though I need to take in regards to what degrees I need to get. Having the backing of the Honors College and the Brinkley-Lane Scholars program really secured that ECU was the right choice."
Remington plans to major in political science with the dream of pursuing a career in government but is also interested in teaching political science. He says securing a place in the Brinkley-Lane Scholars program allows him to pursue his dream with less of a financial burden.
Brinkley-Lane Scholars is the most prestigious undergraduate award program offered at ECU. The four-year merit scholarship recognizes outstanding academic performance, commitment to community engagement and strong leadership skills. Recipients receive a fully funded education, covering the cost of tuition, fees, room and board for both in-state and out-of-state students and unique high impact experiences, as well as the ability to explore the world with a $5,000 study abroad stipend. Scholars benefit from access to an array of leadership opportunities, research with award-winning faculty and a robust alumni network.
"I've realized through the process that being a Brinkley-Lane Scholar is a big thing; it's an honor that only so many people get. I was really proud of myself because it meant everything I did — all of the extra stuff that may have been time-consuming — it was worth it."
Some of those extra things during his high school career included Student Government Association vice president, school ambassador and obtaining an associate degree in science from Pitt Community College, where he was inducted into the Phi Theta Kappa honor society.
Volunteering is also a major focus. Remington said he's grown up with service in mind, and in high school, he was the National Honor Society volunteer coordinator.
"I like volunteering for things that a lot of people don't end up volunteering for. One of my favorite service projects was with a local historic farm in the area. It was interesting to see how every single volunteer really makes a difference."
Even over the summer, he's excited about a unique service that his mom encouraged.
"My mom and I have been fostering dogs for a company in Connecticut that trains dogs for the blind. One of our dogs that we've had for about a year is leaving to go on for full training," he said.
He plans to take time over the summer to transition to life on campus, where he looks forward to finding independence and growing in knowledge, both about himself and his field of study.
"I hope to gain some level of self confidence in terms of feeling comfortable with the knowledge I have and knowing I am capable. I feel like the Honors College and Brinkley-Lane Scholars will help with that because they will work with my strengths," he said.
As for the study abroad portion of the Brinkley-Lane Scholars program, he wants to go somewhere he can be of service.
"I would like to [study abroad in] a country that not a lot of people want to go to — an underserved country or a country that might be a little more difficult to get to. I would like to look into countries that are high in poverty."
Remington admits that if he can get into a study abroad program in New Zealand, a country he's always wanted to visit, that would be great too.
Remington's parents are Mark and Karrie Remington of Greenville.
"I've realized through the process that being a Brinkley-Lane Scholar is a big thing; it's an honor that only so many people get. I was really proud of myself because it meant everything I did — all of the extra stuff that may have been time-consuming — it was worth it."

---
High school: Pitt County Schools Early College High School
Intended major: Political science
Hometown: Greenville