Kaylee Chavis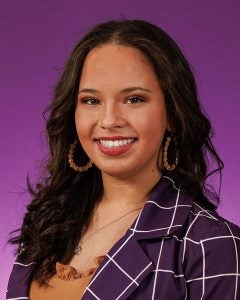 A line on Kaylee Chavis' resume includes she is committed to working hard and serving her school, peers and community.
She is ready to do that as a Brinkley-Lane Scholar at East Carolina University, and she has plenty of experience to draw from as a role model and Native American Lumbee in Lumberton. She is a dance instructor, participated in walk-to-school events to mentor elementary school children about their health and protecting their environment, promoted celebrating diversity and embracing inclusion to town board members and organized Native American history educational programs.
Organizing a mental health awareness self-care donation drive in Robeson County in 2021 also helped lead Chavis to the environmental health major within the ECU College of Health and Human Performance. One of her peers, who already had benefitted personally from the drive, admitted to Chavis he didn't have a grand donation. He offered a bag of Skittles, hoping it would help boost someone's day.
"That touched my heart," Chavis said. "He came to me personally to thank me. That's what made it really worth it was seeing how it could impact people."
The environmental health major is a branch of public health, blending science, public health, management and policy to mold professionals who work in a variety of settings. Versatility in professional impact and the opportunity to help others fit Chavis.
"From a young age, I've always wanted to help people," said Chavis, whose 4.71 weighted GPA ranks third among 405 in her Lumberton High School graduating class. "Originally, speech pathology kind of interested me. My uncle talked to me about environmental health and all the different pathways you can take with it. I would like to travel and be able to pick my pathway."
Brinkley-Lane Scholars is the most prestigious undergraduate award program offered at ECU. The four-year merit scholarship recognizes outstanding academic performance, commitment to community engagement and strong leadership skills. Recipients receive a fully funded education, covering the cost of tuition, fees, room and board for both in-state and out-of-state students and unique high impact experiences, as well as the ability to explore the world with a $5,000 study abroad stipend. Scholars benefit from access to an array of leadership opportunities, research with award-winning faculty and a robust alumni network.
"It's a chance to be a servant leader," Chavis said. "Being a Brinkley-Lane Scholar, you have to leave a footprint as someone who is going to give back and is going to use this opportunity to benefit and lead."
Chavis, 18, who has never been outside the U.S. but has interest in Italy for study abroad, also is set to join the ECU Athletics dance team.
"I'm definitely excited to go to all the games and experience that part of student life," she said. "Meeting with other Brinkley-Lane Scholars again and the people in the honors dorm, I'm excited to make new friends and adapt to that environment. … I take a lot of pride in my culture and when going to ECU, I want to explore other people around me who are maybe indigenous. I would like to learn more not only about Lumbee culture, but all the other different Native American tribes that come together at ECU."
"Being a Brinkley-Lane Scholar, you have to leave a footprint as someone who is going to give back and is going to use this opportunity to benefit and lead."
---
High school: Lumberton High School
Intended major: Environmental health
Hometown: Lumberton