Josie Smith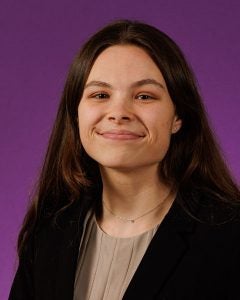 Josie Smith said working alongside East Carolina University peers and faculty members who will challenge her is one of the things she is looking forward to as a member of the 2023 Brinkley-Lane Scholars.
Smith is a 17-year-old senior with a 4.0 GPA enrolled in an associate in science degree program at Wake Technical Community College near her Garner home. She is a member of the college's honors program and anticipates receiving her associate degree this May.
The daughter of Susan Hensley Smith and Shawn West Smith, Josie is one of 20 freshmen entering ECU this fall as a Brinkley-Lane Scholar, the most prestigious undergraduate award program offered at the university. The four-year merit scholarship recognizes outstanding academic performance, commitment to community engagement and strong leadership skills. Recipients receive a fully funded education, covering the cost of tuition, fees, room and board for both in-state and out-of-state students and unique high impact experiences, as well as the ability to explore the world with a $5,000 study abroad stipend. Scholars benefit from access to an array of leadership opportunities, research with award-winning faculty and a robust alumni network.
"As a Brinkley-Lane Scholar, I get to spend the next four years in an environment where my peers are going to challenge me," she said. "I chose ECU because of the hands-on medical opportunities available. It is the only university I found that places such a high emphasis on hands-on learning and research. I also wanted to be around a diverse group of students not too far from home."
Growing up homeschooled, Smith said she is used to pushing herself academically, but that coming to ECU and being in an ambitious and scholarly atmosphere is an opportunity she could not receive anywhere else.
"I am very excited about the research and study abroad opportunities available, and I will have access to top faculty members who are going to challenge me as well," Smith said. "Overall, being a Brinkley-Lane Scholar means that I have the freedom to explore my interests alongside a committed and curious community."
In addition to her studies, Smith finds time to volunteer in her academic and local communities and focuses on her health. She is an active participant and recruiter for the community college's Spanish Club; a volunteer at the local food pantry, where she serves as a tutor and translator for Spanish speaking families; creates and organizes local church outreach; is a worship band leader, selecting music and coordinating practices; and is a CrossFit athlete, placing second and third in sanctioned CrossFit competitions.
This summer, Smith and her family are planning a vacation to the western part of the United States. Then, Smith is competing in a CrossFit competition through her local gym, going on a mission trip to Nicaragua to help open a field dental clinic, and working some while wrapping up the summer spending time with friends and family.
While at ECU, Smith would like to study abroad at the American College of Thessaloniki in Greece to learn about the Greek culture and history.
After completing her degree, she wants to attend medical school, continue research and learn how to treat the whole person.
"I am interested in specializing in holistic medicine. Through family experiences and working in health care, I have found that medicine has become accelerated and profit-driven in America, overall losing sight of the patient," Smith said. "I want to learn how to treat patients in all areas of their lives, such as diet and mindset, instead of simply prescribing a new medication. I want to study natural methods that can benefit patients."
"Being a Brinkley-Lane Scholar means that I get to collaborate with a very talented group of individuals."
---
High school: Homeschool
Intended major: Multidisciplinary studies
Hometown: Garner