Caramia Landis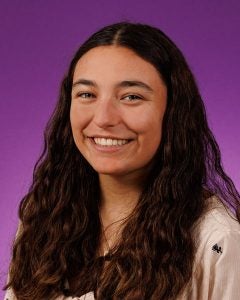 "All of the late-night studying, pushing myself physically and mentally, and always trying to see how I could do better, be better; it all paid off."
It appears to be so for Caramia Landis, who graduates from D.H. Conley High School in June and is now preparing for her first year at East Carolina University as a Brinkley-Lane Scholar.
Brinkley-Lane Scholars is the most prestigious undergraduate award program offered at ECU. The four-year merit scholarship recognizes outstanding academic performance, commitment to community engagement and strong leadership skills. Recipients receive a fully funded education, covering the cost of tuition, fees, room and board for both in-state and out-of-state students and unique high impact experiences, as well as the ability to explore the world with a $5,000 study abroad stipend. Scholars benefit from access to an array of leadership opportunities, research with award-winning faculty and a robust alumni network.
Landis wants to use her Brinkley-Lane Scholar experience to become a community planner. She is enthusiastic about the inclusivity that a community can provide. "My mom is a guidance counselor, and she always taught me the importance of being an 'includer' and making sure no one is left out," said Landis.
According to Landis, ECU is one of 10 schools that offer a community planning major, which made it easy for her to decide to stay in her hometown to continue her education. And, when Landis met with ECU's Dr. Misun Hur, associate professor of community and regional planning, she knew her decision to attend ECU was a solid choice. "When I met with Professor Hur, I loved her and her program so much, and I could tell it was exactly the right major for me to make the difference I want to in the world."
"To me, being a Brinkley-Lane Scholar means embodying everything that makes ECU great: being compassionate, being a leader, being a changemaker," said Landis. "It also means being part of a community of great people that will stick by each other through our four years together."
Landis adds that she plans to make as many friends as possible and "just soak up every moment."
She also looks forward to getting involved with ECU's service organizations and working to "make my Greenville community a better place."
Making a difference in the world will start with Landis as a Brinkley-Lane Scholar. "I hope ECU prepares me for my career by teaching me everything I need to know about community planning to make me the best community planner I can be. I can't wait to travel abroad with Professor Hur and learn about the world's best sustainable city, Seoul, South Korea."
Before stepping into her first class, however, Landis plans to spend time with her friends and family as possible and, as she puts it, "hopefully making numerous trips to the beach."
"Being a Brinkley-Lane Scholar means embodying everything that makes ECU great."
---
High school: D.H. Conley High School
Intended major: Community and regional planning
Hometown: Greenville