Student: Chris Short
Chris Short is a junior from Apex and is double majoring in vocal performance and music theory/composition at East Carolina University. He is involved in the ECU Opera Theater, ECU Chamber Singers, ECU Students for National Association of Teachers of Singing and is vice president of ECU chapter of the Society of Composers Inc.
"Music is an art like none other," he said. "It's tons of work and teaches you so much about yourself."
His passion for music began years ago around the holidays.
"While taking Christmas decorations down from the attic one year I found a guitar that was my mom's when she was younger," he said. "I brought it down and started figuring out how to play 'Silent Night' on an incredibly out-of-tune guitar."
Afterwards, he began to learn other songs. He joined the choir his freshman year of high school, and it took off from there. He said that his high school choral director was incredible and led him down the path of music, discovering his passion for it.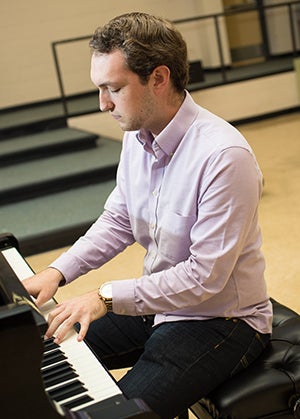 Short recently released an album titled "Love Songs for Nobody." He worked on the full-length album of original music for two years.
"It's kind of like a Jason Mraz/John Mayer kind of feel," he said.
He fundraised over $1,500 towards the cost of the album on Kickstarter, the world's largest funding platform for creative projects.
"It showed me exactly how much support I really had and that makes the world of difference in this career and in my life," he said.
Last summer he participated in a New York University film scoring workshop. He said attending the workshop influenced his decision to record an album and set goals for the future.
"It completely pushed me in the direction of wanting to do a graduate program in film scoring or audio post production work," he said.
Last year he won a competition to write a piece for the ECU Chancellor Cecil Staton's installation ceremony. The piece was written for and performed by the ECU Chamber Singers.
After graduation, Short hopes to pursue a graduate degree in film scoring and to continue performing and singing in choirs.
"You get to do something beautiful with your life and you get to truly emotionally affect people," he said. "Even if a piece that you wrote makes a single person feel something, that's a success."
More information about Short's album and music can be found at www.chrisshortmusic.com.
What advice do you have for other students?: Get involved in as much as you possibly can at ECU because there are so many great organizations and opportunities here.
What is something cool about ECU that you wish you knew during your first year?: There is always something to do around campus and people looking for friends. ECU is one big Pirate family ready to help each other out and share this incredible experience.
Your words to live by: You are the best version of yourself.
STATISTICS
College: School of Music
Major: Vocal performance and music theory/composition
Age: 20
Classification/Year: Junior
Hometown: Apex, North Carolina
Hobbies/interests: Music, football, soccer, woodworking, film music, technology (specifically audio production/recording technology)
Clubs and Organizations: Students for National Association of Teachers of Singing, Society of Composers Incorporated, ECU Chamber Singers, ECU Opera Theater
FAVORITES
Favorite hangout: My friends' houses
Favorite place on campus: Dowdy-Ficklen Stadium
Favorite place to eat: aTavola!
Favorite class: My private voice and composition lessons
Professor who influenced you the most: Mr. John Kramar
Favorite TV show: Friends
Favorite band/musician: John Mayer
Favorite movie: Hitch
Favorite website: Facebook
MOTIVATIONS
Dream job: Film scorer/professional singer
The one thing you cannot live without: Music
Role model: My music professors