Student: Mariah Barber
This Pirate merges passions for public health and the arts.

College:  Health and Human Performance
Major: Public Health Studies, Community Health & International Studies, Latin America
Age:  21
Class:  Senior
Hometown: Matthews
Clubs & Organizations: Alpha Phi Omega, Student Government Association, Eta Sigma Gamma, Elite Pirate, Word of Mouth, WZMB 91.3, Global Pirates
Hobbies & Interests: Poetry, Reading, Writing, Performing as Deejay.

Place on Campus: At an open mic in Mendenhall Rm 244, or on a blanket on the mall.
Hangout: In my car, Flossy, with the top down. I love to drive to clear my head after a long day.
Place to Eat: Scullery
Class:  African American Literature, English 3260, Reginald Watson
Website: www.buttonpoetry.com
TV Shows: "How I Met your Mother," "The Fosters," "Static Shock," "Girlfriends," "Living Single"
Musicians/bands: Lauryn Hill, J. Cole, Kendrick Lamar, Erykah Badu, Al Green
Movie: "Forrest Gump," "Love & Basketball"

Most Influential Professor: Tywanna Purkett

You Can't Live Without: My writing notebook
Role Model: Maya Angelou
Words to Live By: "Some people do, some people never do, some people over do …how do you do?" – my Great Grandmother

Advice for fellow students: Find the thing that sparks a passion that keeps you up at night and then don't let anything keep you from it.

Something cool about ECU you wish you knew during your first year:  Student Government has over a $100,000 budget. Any student organization can apply for funding for many different opportunities, from T-shirts to leadership conference trips.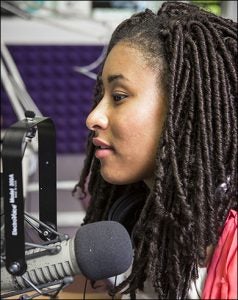 "Find the thing that sparks a passion that keeps you up at night and then don't let anything keep you from it."
– Mariah Barber
Mariah Barber's interests range from poetry to public health
When East Carolina University senior Mariah Barber started writing her book of poetry, "Of Mics and Pens and Gods and Other College Courses," she likely had a lot of experience to draw from. By her senior year, she had joined a fraternity, deejayed at the campus radio station, run a club, held two positions in the Student Government Association, become a Global Pirate and an Elite Pirate and studied abroad.
"The good thing about it is, all of [the activities] somehow fit together," said Barber. "They're all either working with health or arts or something that I'm really passionate about so it really doesn't feel like work."
Besides penning poetry, Barber is a double major in public health studies and international studies.
"I would always tell people, 'I'm going to be the first female African American president,'" said Barber. Then in middle school she considered, "Maybe it's not as realistic to go for president, but how can I still be involved in policy making and health? That's when I started to find public health."
Barber discovered her passion for health and art at home. "My mom is a pediatrician so I think seeing her work with children and…the love that she has for caring for people kind of translated over to me," said Barber. "[And] my dad is an artist so I always saw him painting or drawing. I love to write, and that's something he's always loved to do too."
Barber hopes to combine her two interests by one day opening a woman's center focused on empowerment through art therapy. "It can be really therapeutic for people to let their feelings out, whether they're going through treatments or they just have internal stresses because that can make an impact on your health," said Barber.
Barber stumbled upon her love of poetry after watching a spoken word artist perform on campus. After the show, the Word of Mouth president invited the crowd to their weekly meetings. "That Sunday, I was there," Barber said.
Word of Mouth allows students to write and perform spoken word poetry. As community service coordinator for Word of Mouth, Mariah partnered with Third Street Community Center to offer poetry classes to kids. Then, during her sophomore and junior year, Barber served as the club's president.
"[Word of Mouth] gave me a voice," said Barber. "It didn't feel like a club. It felt like a family."
Barber's involvement on campus didn't stop there. After noticing a shortage of minority involvement in student government, Barber joined the Student Government Association as general college senator and chair of the appropriations committee.
The summer following her sophomore year, Barber studied abroad in Argentina and Peru. Using her own experience, she now acts as a Global Pirate peer advisor for students wanting to study abroad.
Barber hopes to earn a master's degree in international studies and join the Peace Corps. Eventually, she wants to earn a doctorate in public health.
What do you like about Word of Mouth?
Any time I get stressed, I can just write a poem and let it all out. I love performing at the Unity Showcase and a lot of big shows that we have on campus.
I love getting up on stage and being able to share how I feel. Sometimes I get to do group pieces with other people. You can do it about social justice issues so I've done some about the Mike Brown situation and police brutality. Or you can do it about love. That's always fun to write about too.
I really just found a family within that group and it's probably one of my favorite and most memorable things I have done at ECU.
What did you learn from working with the Third Street Community Center?
You can make an impact on their lives. There are three brothers – nicknamed Big Boy, Mesi and Cook – who always came to the center. They were there even when we were just building it and breaking ground. You see them grow.
Another child, Squirt, was to my knee when he first came in and now he's about to go to middle school next year. It was more mentorship even though we were focusing on the arts. We were role models for them. We were able to bring them to the school to go to some open mics and they were able to perform.
One of the most touching moments was when the oldest one, who's about to go to high school said, "I think I can go to ECU." Helping to change their lives and their views has been the most rewarding thing.
Photography by: Cliff Hollis
Written by: Summer Tillman