PURPLE & GOLD GOES GREEN
ECU launches national club sports initiative
Senior Heather DeMartin has coupled her passion for lacrosse and protecting the environment to lead a 'go green' effort among 1,100 East Carolina University club sports athletes.
ECU and the University of Colorado-Boulder are the first universities in the nation to "Pledge to Travel Green" and hope to influence others to do the same. The move is part of the ECU-led Travel Care Code Initiative and the start of a national effort to reach more than 2.5 million collegiate athletes in club sports programs.
"It breaks my heart to see people throw out plastic water bottles or leave trash on the field," said DeMartin, a hospitality management major with a minor in business and fourth-year player with ECU women's club lacrosse. "At the same time, maybe they aren't educated or they don't know."
That's where the new initiative comes in.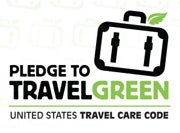 As part of a summer internship, DeMartin researched and developed two manuals geared at lessening the carbon footprint of ECU club sports athletes and visiting teams. The work, funded by ECU's Center for Sustainability: Tourism, Natural Resources, and the Built Environment, is being shared with more than 40 ECU clubs this fall.
The effort to encourage environmentally conscious decisions every day builds on what some teams and athletes already do: drinking from reusable water bottles, picking up trash after games, carpooling and using ECU Transit.
"Now that it's the start of the school year, we hope to get other schools in North Carolina to jump on board," DeMartin said. "We hope to reach every club sport, and we hope to spread out to many athletics organizations. We hope to get the ball rolling this semester and next semester with colleges to take the pledge."
ECU club sports hosts approximately 70 to 80 home games, from basketball to tennis, each academic year with most teams traveling within a 600-mile radius of Greenville, said Justin Waters, ECU's assistant director of club sports. ECU teams typically travel up to a 450-mile radius from campus for games. Longer trips are permitted with prior approval, Waters said.
"We only get one Earth," Waters said. "There isn't a reset button after it's destroyed."
ECU already encourages recycling and the use of water re-fill stations at all recreational fields and buildings. The North Recreational Complex uses a water recycling program throughout its eight multipurpose activity fields. The Student Recreation Center is replacing all of its lights with energy efficient bulbs, said Waters, who mentored DeMartin for her internship along with Janis Steele, associate director of facilities with ECU Campus Recreation and Wellness.
DeMartin's work will be highlighted at the American Association of Sustainability in Higher Education national conference in October.
"She had quite a summer adventure, meeting with hoteliers and businesses across Greenville regarding their sustainable practices … as well as traveling to Boulder to work with her student counterpart," said Dr. Pat Long, director of ECU's sustainability center.
DeMartin collaborated with Meaghan Stertzer, a senior at CU-Boulder, to develop the 'go green' manuals.
"I feel like I take this internship with me every day, everywhere I go. I can't be more grateful or thankful for it," said DeMartin, vice president of ECU Students for Sustainability. "I want to help as much as I can."