News Services
This is the ECU story.
At News Services, we tell the stories of Pirate Nation — stories of students and faculty discovering treasure on our nearly 1,600-acre campus and beyond, of health care professionals pioneering advances in medicine, of researchers making breakthroughs and of alumni who are changing the world.
Founded in 1907, ECU has answered the call to serve for more than a century, whether it's meeting the demand for more teachers and doctors or improving economic conditions and quality of life in the region. Today, East Carolina's bold direction continues to define its region and legacy.
We are ECU. We are Pirate Nation.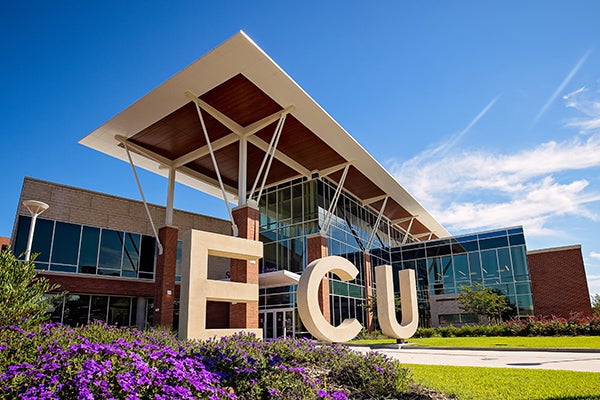 Join the Conversation
---
---
Recent News
---
---
Harriot College's 16 departments and 50+ degree programs allow you to discover your passions, achieve your goals, and be prepared for a career where you can make a major difference in our world. Learn more now.
---
---
Official ECU Podcast: Talk Like a Pirate
Latest Episode
Delta-8 THC and CBD: Delta-8 THC and CBD are all around. In Season 4, Episode 6 of Talk Like a Pirate, a couple of ECU researchers talk about why lax accountability could allow these potentially dangerous products to fall into childrens' hands.
Paying it Forward: In this episode of Pirate Voices, ECU alumnus Timothy Gomez shares an emotional story of how a professor "protected" him. Gomez never forgot that. When he became successful, he endowed a scholarship to help students like himself. And it was all in honor of his beloved professor — Barry DuVall.
---
---
ECU Now Blog
---
---